CALL TO RESERVE YOUR TABLE:
386.428.1865
Award-Winning Food & Wine, Unbeatable Views!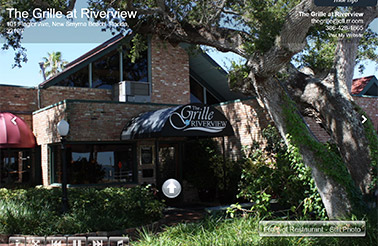 Take a visual tour of our unique restaurant.
Romance on the Riverfront!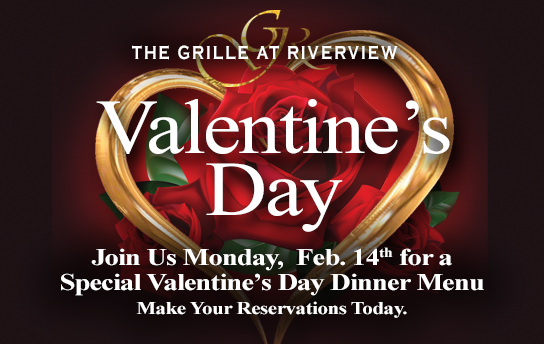 The Perfect Gift - The Grille Gift Cards
Treat your family and friends, or yourself, to the gift of The Grille at Riverview. It's perfect for birthdays, holidays or just a special thanks! More Info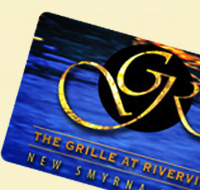 Join Our Mailing List
Reviews
Excellent service by Ej! The food was amazing! Merry Christmas. We broke tradition and it was an amazing Christmas Eve! Thank you!
- Patty H – December 2021
A perfect Christmas for us. Romantic atmosphere, Creative cocktails, Fun atmosphere!
- Bryan L – December 2021
Great food! Plus, a beautiful location with a lower bar on the river.
- Pam M – December 2021
Always a great experience. Watching the dolphins swim by while eating great food is the best!
- Sandy T – November 2021
Wonderful view and tasty daily specials. Lunch available all day. Definitely recommend if you are from out of town or a local.
- TripAdvisor – November 2021
Love this place. Views, food, drinks and staff are all outstanding!
- Michele J. – October 2021
Absolutely amazing ! Definitely recommend. We had a server training another one, both were outstanding and the food was great. Best restaurant I've eaten at yet in new Smyrna! Highly recommend.
- Kerry C. - September 2021
Beautiful view and wonderful food. Service was excellent!! Perfect for parties, Great food, Romantic atmosphere.
- Kelly K. – September 2021
The food was awesome and we had the best service! Stylish interior, Fun atmosphere.
- Dorian L. - September 2021
AMAZING food, loved the blackened Mahi-Mahi. Beautiful view on the water. Romantic atmosphere.
- Alyssa V. - September 2021
Wonderful atmosphere on the water… food was out of this world delicious!!
- Penny C. - August 2021
Select a date to see more details.