CALL TO RESERVE YOUR TABLE:
386.428.1865
Award-Winning Food & Wine, Unbeatable Views!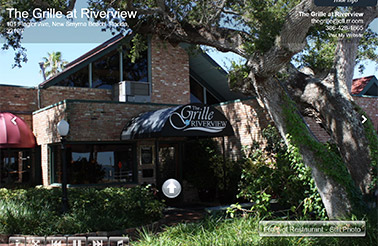 Take a visual tour of our unique restaurant.
Improvements You'll Love!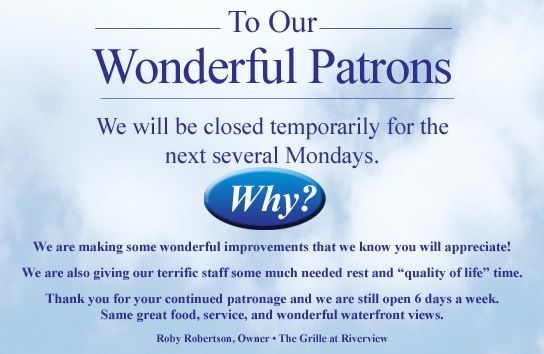 The Perfect Gift - The Grille Gift Cards
Treat your family and friends, or yourself, to the gift of The Grille at Riverview. It's perfect for birthdays, holidays or just a special thanks! More Info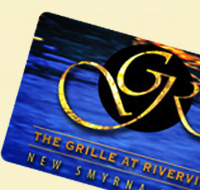 Join Our Mailing List
Reviews
The food was amazing, the view stunning and Jess our server was the best! Totally one of the BEST places in NSB to enjoy dinner and amazing views.
- Lisha G - May 2021
The ambience and views along with the wait staff and delicious food and my fantastic family was a memorable night.
- Scott I. - May 2021
Awesome view, great food and a friendly staff! Get there for the sunset!
- Charles S. - May 2021
Great atmosphere and friendly staff!
- Monica M - April 2021
Great Food and beautiful view on the river! Excellent sunset!!
- Patricia B. - April 2021
Great food. Fantastic service. Awesome view. Would definitely recommend it, and we will be back!
- Bill H - February 2021
The Grille at Riverview is top notch. Great food and great staff!
- Tracy L.- January 2021
Our waiter was Chance. He was fantastic and food was great!
- Diane J.- January 2021
Best Thanksgiving meal ever! Service was great and so was the view.
- Cynthia H. - November 2020
Great servers. Wonderful view. Outstanding food.
- Charletta M. - November 2020
Was introduced to The Grill at Riverview by a neighbor, I was so surprised to see Beef on Weck on the menu. Ordered one not knowing what to expect, it was awesome. The chef really knows his food and prepares so beautifully. Love the river view and watching the boats. Thank you Grill at Riverview for being here.
- Joan B. - November 2020
Select a date to see more details.