CALL TO RESERVE YOUR TABLE:
386.428.1865
Award-Winning Food & Wine, Unbeatable Views!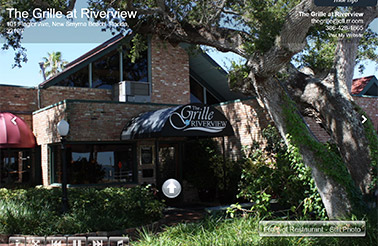 Take a visual tour of our unique restaurant.
Christmas on the Waterfront!
The Perfect Gift - The Grille Gift Cards
Treat your family and friends, or yourself, to the gift of The Grille at Riverview. It's perfect for birthdays, holidays or just a special thanks! More Info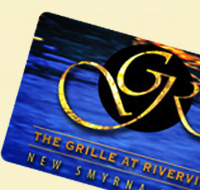 Join Our Mailing List
Reviews
Love this place. Views, food, drinks and staff are all outstanding!
- Michele J. – October 2021
Absolutely amazing ! Definitely recommend. We had a server training another one, both were outstanding and the food was great. Best restaurant I've eaten at yet in new Smyrna! Highly recommend.
- Kerry C. - September 2021
Beautiful view and wonderful food. Service was excellent!! Perfect for parties, Great food, Romantic atmosphere.
- Kelly K. – September 2021
The food was awesome and we had the best service! Stylish interior, Fun atmosphere.
- Dorian L. - September 2021
AMAZING food, loved the blackened Mahi-Mahi. Beautiful view on the water. Romantic atmosphere.
- Alyssa V. - September 2021
Wonderful atmosphere on the water… food was out of this world delicious!!
- Penny C. - August 2021
Beautiful view, great service, good food & drinks, & fun ambience!
- Wade T - August 2021
Great view of the bridge & the many boats coming in. Food was good, service was great. Hostesses were more than accommodating
- TripAdvisor - July 2021
The food was amazing, the view stunning and Jess our server was the best! Totally one of the BEST places in NSB to enjoy dinner and amazing views.
- Lisha G - May 2021
The ambience and views along with the wait staff and delicious food and my fantastic family was a memorable night.
- Scott I. - May 2021
Select a date to see more details.