CALL TO RESERVE YOUR TABLE:
386.428.1865
Award-Winning Food & Wine, Unbeatable Views!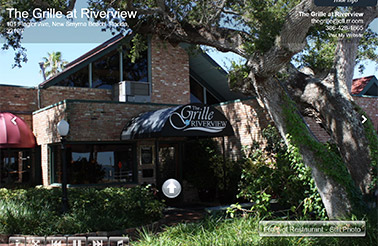 Take a visual tour of our unique restaurant.
Make It Special On The Riverfront!
Christmas on the Riverfront!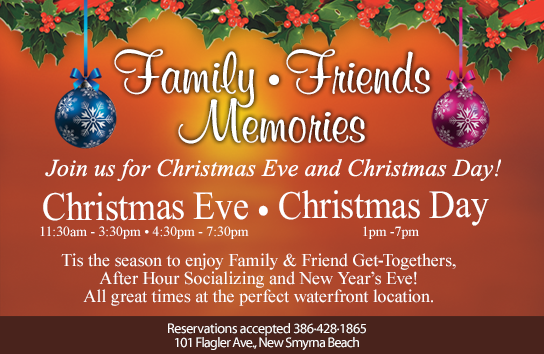 The Perfect Gift - The Grille Gift Cards
Treat your family and friends, or yourself, to the gift of The Grille at Riverview. It's perfect for birthdays, holidays or just a special thanks! More Info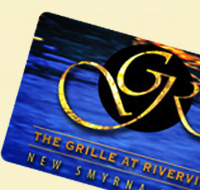 Join Our Mailing List
Reviews
Great Service!
Just returned from a vacation in the area and had a fantastic dinner here. The seafood was fresh and I loved my Bloody Mary! Our server was attentive and patient with me trying to decide what to get on the menu. I think her name was Beth. She was so friendly!
- Judith S.- July 2022
WOW! Amazing Service and Great View
The escargot was an amazing starter. I had the grouper dinner that was very good. My boyfriend had the Prime Rib, which I tasted and it was delicious! We were seated right away and greeted by Allie and Gabe. Allie was very knowledgeable about the menu and wine pairing. She was very professional and stated she was training Gabe, who was also very professional. My date night was perfect. I highly recommend the Grille at Riverview and Allie or Gabe as your server.
- SaltyGirl - June 2022
Magnificent sunset with dolphins!
We have been here once or twice before, best place in town to watch the sunset and enjoy some cocktails. Or server Ali was extremely knowledgeable about the menu and was able to offer a few recommendations. Highly recommend Ali if you want to receive the best service in town
- John C. - June 2022
Great food and ambiance!
This was my first time here and I was very impressed. The service was excellent and our server, Alley Joe was the best. She was upbeat and friendly. The food was delicious and cooked just right! We will definitely be back!
- Laurie S. - June 2022
Select a date to see more details.